In Conversation: Impact Throughout the Years
Posted by James White
October 12, 2021
in
Comments Off

on In Conversation: Impact Throughout the Years

Since starting Impact Marketing over 20 years ago, Founder and CEO James White has experienced a menagerie of difficulties and stepped up accordingly. Recently, Annika Wall, Impact's creative director and project manager, sat down with White to have a conversation about Impact's past, present and future. These are the results.
Annika Wall: So, walk me through the very beginnings of Impact. What made you want to start your own marketing company?
James White: That's a good question. I actually did some promotion as a manager at a bar and restaurant here in town [Cedar Falls] in the 90s and decided that I wanted to make a career change. When I did that, I thought the logical step was to get into sales, which I did by selling printing, and along with that came graphic design. After working there for just under a year with some success, I got hired at a boutique agency and worked there for two and a half years. My philosophy on business changed throughout this time, and I made another career change and planned on going back into sales. Much to my surprise, when I put in my notice, my clients reached out to me. Of the clients I served, about 90% asked if I would handle their advertising and marketing as I was transitioning into another position. I thought it was a great way to make money as I applied for other jobs. Well, next thing I knew, I had a dozen clients, which turned into Impact Marketing.
AW: If you had to pick, what would you say was one of your company's early niches?
JW: With around five years of experience in the industry, I found it interesting how not all companies would hire an advertising agency. I wanted my company to be different, so that's why I called it Impact Marketing. We handled more than just the advertising aspect. We handled the processes for sales and strategies.
Once we got into it, we found a niche. Most of the other advertising agencies were going after more regional, if not national, clients. There was a niche in the Cedar Valley, and over the next five years, we developed a lot of Iowa-based clients.
AW: Do you remember the very first project you did? How did it turn out?
JW: The earliest project we did was a logo and brochure for a company that was called Cedar Valley Records Management. We also did a folder for climate-controlled storage of documents before most things went digital for that same client. He was the first client from scratch, meaning he didn't follow me from my previous job, and the interesting thing is that he ultimately sold the company to Iron Mountain, a company that does document destruction and storage, among other things. It was neat to see over the last 20 years how that developed.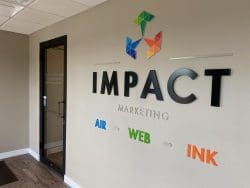 AW: What were some of your early services and how have you expanded since?
JW: Right away, our core services were radio and television production, media purchasing, graphic design and printing with a heavy focus on the latter two. Within a year or two, we started providing website development services. We consulted with an outside firm on this before we ultimately brought it in-house in '06. Our development team has grown to three members as the needs have grown over the years. As we've seen print advertising decline over the last 15 years, we've expanded into digital, not just digital assets, but digital advertising. Traditional media still has a place, but digital marketing, because of the data it provides and targeting options, has exploded over the last five years for our company.
I'd also like to point out that we're one of the largest buyers of traditional media in the Cedar Valley. We're talking television, radio, metro and rural newspapers, billboards, trade publication advertising and listings. We've helped dozens and dozens of companies get started from scratch, so at the very beginning we found a small niche in consulting and writing business plans for people. We've written plenty over the years and in 2005, we got our first medical client. That has been our biggest vertical market. Probably 70% of our business is related to the medical industry, whether it's a clinic, a hospital, a medical manufacturer, health insurance company, etc.
AW: If you wouldn't mind, tell me a little bit about Impact's current team. What makes this team the best for your clients' needs?
JW: Starting out, because we've done medical since '05, including working on projects for those lobbying at the state level, the knowledge base of the team we have in the medical industry is very, very extensive, especially with the different rules and regulations. I know it's constantly evolving, but needless to say, our knowledge base is very good.
Secondly, we have a seasoned media buying team that has a combined experience of well over 35 years. That gives us an advantage purchasing everything from digital to traditional media. Furthermore, our copywriting team is extremely strong, not only in the sense of creative writing, but technical writing that is needed and required for the medical industry. That's unique to us, because it's very hard to find a copywriting team that can be both great technical and creative writers at the same time.
We also have an excellent website development team we've put in place. Our lead developer is one of the best developers I've ever worked with. His colleagues who help with development are a little younger but are extremely knowledgeable because they were self-taught in addition to going to college for it. It's very exciting, because our team as a whole keeps up-to-date with trends in the industry. I'm approaching 50 and I look around and most of my staff is in their 20s, 30s and 40s. I think it's good to have that mix of seasoned professionals and colleagues who grew up with technology, so they provide a different perspective. They have their thumb on what's going on online.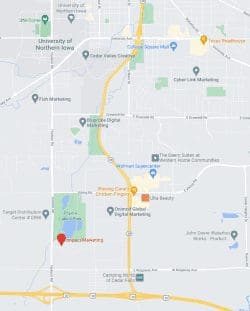 AW: Like you mentioned, Impact's been open for over 20 years. Looking back, what advice would you give yourself when you were first starting this company?
JW: I take pride in the fact that our company is a steward of our clients' money, and we do that almost to a fault. I truly care about all of our clients and take their successes and failures personally. As a company, we don't succeed unless the client does. On that note, we've really come into our own in the last five years. Our services were probably way less expensive than they should've been for 15 years, and they are still very competitive.
With that in mind, I don't necessarily regret it because I don't know if we would have been able to survive the things we survived. We opened in April 2001 and 9/11 was right behind it. When we started coming into our own, we had a tornado in May of 2008, floods in the Cedar Valley in June of 2008, and in October of that year the recession really hit. We made it through that. I was also super worried about COVID, and we tried to keep as much staff as possible on board. I'm excited that we were able to keep our staff through that and ultimately come out the other end OK.
AW: Last question – if there's one thing you'd say you've learned as a business owner, what would it be?
JW: Surround yourself not only with good employees who complement your own skill set but surround yourself with great advisors. I'd like to think the partner companies and clients we have today look at us as a part of their company as opposed to just a vendor. I know it sounds cliché to say they're our business partner, but, truly, I want to be not just a partner, but a part of their team and their culture. Some of the relationships I've built with my clients over the years are interesting, because some of my best friends are my clients and they were clients first, not the other way around. It's heartening how the relationships I've built the past 20 years have turned into lifelong friendships, and I think that's why we have unbelievable client loyalty. You can't please everybody, but we do our best.
Interested in working with Impact Marketing? Give us a call at 319-232-4332 or visit our website at ImpactMT.com.