Get The Full Instagram On Desktop
Posted by Alek
September 21, 2020
in
Comments Off

on Get The Full Instagram On Desktop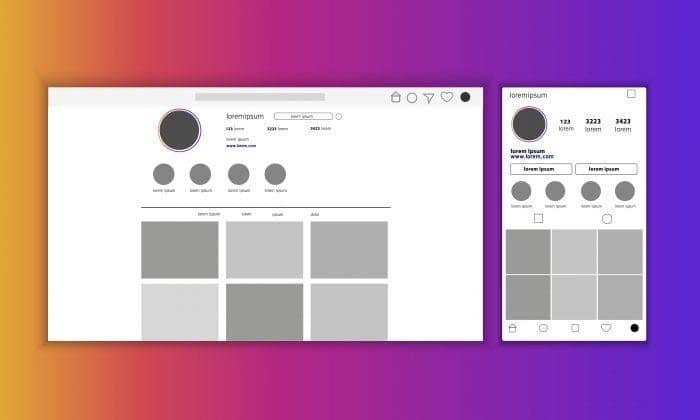 Instagram from the beginning has been what's referred to as a "Mobile First" platform. Meaning that the general goal for the structure is to assume that users are accessing the service via a mobile device, or to encourage them to do so by adjusting the interface and limiting features on their desktop version. The most common annoyance from this for desktop users is the inability to upload and post from the Instagram website. When looking for the upload icon in the bottom center of the screen, as it is in all other versions of the platform, users are left confused at it's absence. Here we will help you understand why this is, how to work around the missing feature, and unlock more capabilities of Instagram and other mobile first platforms while still using your desktop PC.
Why Mobile First? Just let me use the website!
Instagram's (and most social media platform's) primary resource is data collection. While some useful data can be harvested from a desktop based website that is valuable to potential buyers, mobile devices provide far more analytics that advertisers look for. The mobile website browser being marginally better as it is more likely to provide harvestable location data, the ultimate goal would of course be a full mobile application that gives far more permissions to user data than a standard browser. Because of this, a user carries far more potential earnings for the platform if they can be steered towards a mobile device. Instagram while allowing most features on their base desktop website realized the value of withholding what is perhaps the most important asset for data collection, user's posts. The image uploads not only provide the same information as other interactions of the service, but also the meta data of the image itself. Allowing users to upload via desktop increases the likelihood of the image being processed or compressed by either email, cloud service folder, or a simple "save" function on editing software.

For many users this limit is not much of a concern as they primarily upload photographs and videos taken straight from their phone anyways. But for some users the ability to upload via desktop can be a real game changer. For users like designers and artists who produce their work on their computers, having to get the file to their phone in order to upload can be a real annoyance. Again having to worry just as Instagram does about unwanted processing and compression when transferring the file. Possibly lowering the fidelity of their work in the process. Or for marketers who are managing advertisement pieces on their PC and have to then access their client's accounts from their personal mobile device. Raising concerns of security and the worry of not being signed into the right account in the future. And extra time spent having to migrate the file to a mobile device.
Getting Around Desktop Limits
The simplest way to enable the upload feature on desktop is to temporarily activate your browser's mobile device emulator. This will interact with the website as if you are browsing from a phone or tablet. Below details the steps needed to do this on either Google Chrome or Mozilla Firefox.
Right Click > Inspect Element while on Instagram.com
This will present you with a dock commonly used by website developers. It can seem a bit overwhelming if this is not a part of your browser you have ventured before, but for this work around we will only need to focus on a single function in this very large toolbox.
Select the mobile Icon
At the top of the dock you will find a mobile device icon. It is located in the top left for Chrome, and top right for Firefox. Select this icon and you will notice an extra bar around your current website. Do not exit the dock.
Refresh the Website.
Upon refreshing the website with the dock still active you will notice an old friend, the upload icon in the bottom center of the website just as it should be.
The upload and posting process is the same now as any other interaction with the platform. You can even adjust the sizing of the mobile emulator to preview how it might look on other devices. Or if you are just more comfortable using the service in usual vertical format.
This leads to an extra level of frustration because now you must live with the fact the feature was always there and that there is zero technical issues providing it on the desktop site other then to purposely limit the user experience for the benefit of collecting more data.
The Next Level For Desktop Instagram
Now that we have covered the biggest concern with Instagram's limit, we can dig deeper for those who wish to get the full mobile experience from the convenience of their PC. The Instagram app can often connect and work in tandem with other mobile services such as social marketing management apps. These again would come with the same issues of having to access client accounts from an employees personal mobile device and the time lost migrating files. To avoid this, you can utilize a full Android emulator. Whereas before we simply emulated a mobile browser, with free or paid software you can emulate an entire mobile device. Meaning from your PC you will be able to install and manage mobile apps without ever touching a phone.
An easy starting point would be to use a service called BlueStacks. This is a reputable android emulator that has been freely available and trusted for years. While there is a splash screen advertisement when booting up and rare notification to download a sponsored app, you won't be bombarded by this free service and is well worth the download. The application is generally aimed towards what we must assumed are very confused gamers wanting to crush candy or have very precise Angry Bird shots from their 27″ monitor for that extra edge, it is also a useful tool for developers, marketers, and artists who in certain scenarios would prefer the desktop experience over a phone's screen.
If Instagram still has you frustrated with these workarounds in your tool belt, let Impact Marketing do the work for you!