No One Escapes Negative Reviews
Posted by Beth
April 2, 2019
in
Comments Off

on No One Escapes Negative Reviews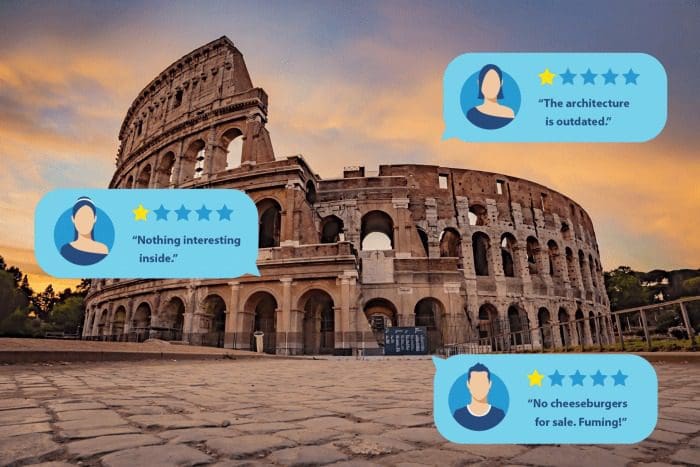 Are you panicking because your business got a negative review? Stop, breathe, and take your fingers off that keyboard! Every business gets a negative review at some point. Yes, every business. 
Consider, for example, the Colosseum in Rome. The almost 2,000-year-old Italian icon has pages and pages of 1-star reviews on Google, with comments ranging from: 
to architectural critiques such as:
Or, my personal favorite:
Imagine going to one of the world's most popular historical destinations in search of a good cheeseburger.
Unsurprisingly, the Colosseum isn't the only landmark receiving flak. Reviews of the Taj Mahal say:
Even the most impressive places in the world get bad reviews. But what causes someone to write a bad review? Most of these situations fall into one of three groups: 
Lousy Customer Service
One of the biggest reasons for a negative review is poor service. If you or your employees are rude, inattentive, or unprofessional, you can expect a bad review. Think about the last time you experienced unacceptable customer service. How many people did you tell? Probably several. Conversely, how many people do you tell when you deal with pleasant and helpful employees at a business you patronize? Maybe one or two. Battle negative reviews with excellent customer service, and we mean excellent, not just good. People comment on the extremes but tend to ignore the less noteworthy experiences. 
Unmet Expectations
In a similar vein, people tend to comment on experiences that don't meet their expectations (whether realistic or not). For example, if you have a restaurant that's marketed as high-class, but the environment is more fitting to a fast food joint, you're going to hear about it. Even for circumstances that are specifically addressed, such as in a terms and conditions document that they signed, customers may still complain simply because they didn't bother to read and therefore know what they should expect. 
The Impossible to Please
Even if you do everything right, there are going to be people who just aren't satisfied. These people fall in to the category of "impossible to please." They simply like to complain. It's probably safe to say that all the Colosseum and Taj Mahal reviewers above fall into this category. 
Negative reviews aren't necessarily a bad thing. In fact, they can be an opportunity to win over more customers, if you implement an appropriate strategy. 
R
espond to
every
 negative review
When a customer writes a negative review, it's because they want to be heard. They're expecting a response. Schedule some time each day (you'll want to respond in a timely manner) to check and respond to your new reviews.  
Keep it Professional
More important than responding to each review is to respond professionally. Your business can seem personal. After all, you've poured your time and money into making it successful, but it's important to keep your emotions and pride in check and never attack your reviewers. 
If a review gets you worked up, take a break, step away, and come back to it later. Consider having a general template for responding to reviews, which can be customized based on the customer and their complaint. Finally, have another person proofread your response before you send it. Ask them to check not only for spelling and grammar errors, but also for overall tone and professionalism. Remember, your goal is to get this customer to come back. 
Address Concerns
In your response, begin by acknowledging the customer's issue and apologizing. Be careful with the apology as it can sometimes be seen as an admission of guilt. For example, if someone complains that your restaurant's food made them sick, do not say "We're sorry our food made you sick." Apologize without being too specific. Say instead, "We're sorry your experience did not meet expectations." 
Under no circumstance should you disagree or tell the reviewer off. For example, "There's no way our food could have made you sick," could come across as rude and defensive. Consider instead "Our restaurant follows the highest food safety standards in an effort to ensure a safe and pleasant experience for all guests." 
Offer a Resolution
After you've addressed their issue, move on to a resolution. This could be in the form of reassurance, an offer, or a request to speak offline. If we take the above example of the customer who got sick, we could address it in any (or all) of these three ways: 
Reassurance: "We will be having a supplementary mandatory food safety meeting with all of our staff to address your concerns and ensure that everything we serve is completely safe." 
Offer: "As our apology, we'd like to offer you a coupon for a free meal. We hope that you will give us another chance." 
Take it offline: "We'd like to learn more about your meal in order to investigate this issue further. Please call us or send us a message on Facebook at your convenience." 
It's important to take the issue offline if it's something serious (like potential food poisoning) and you don't want others to see the customer's responses via public reviews. 
Whether you run one of the most impressive ancient landmarks in the world, or a diner in Waterloo, Iowa, you're bound to get a negative online review at some point. By handling the situation calmly and professionally, you may just win back that customer—and the business of others who see your great customer service shining through in your response. 
For help handling your online reputation, contact Impact Marketing today. Call 319-232-4332 or visit ImpactMT.com.