Our Favorite Free Web Tools for Marketing, Development, & Design
Posted by Alek
July 19, 2021
in
Comments Off

on Our Favorite Free Web Tools for Marketing, Development, & Design

Whether you're a working professional looking for a quick solution, a curious hobbyist, or a cash-strapped student, we all at times turn to the vast number of free tools available online. These free tools are often too good to be true or hide real features behind the premium pay walls, but they can be useful in a pinch or even as part of our regular go-to's. Below we'll discuss five of our favorites and what they can offer at the low price of nothing.
Photopea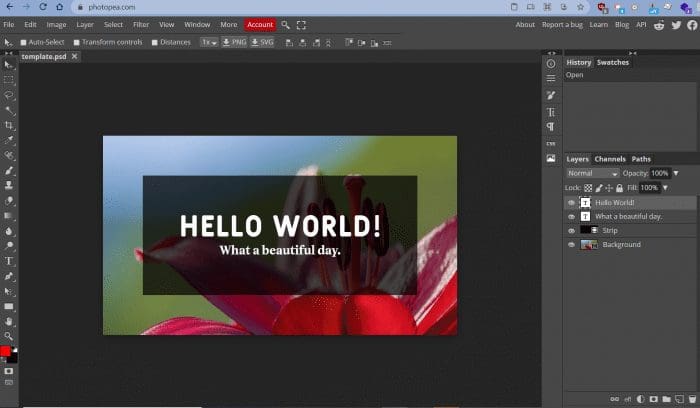 The cost of licensing Adobe Photoshop is often one the first major hurdles for budding designers. In the past, some more resourceful (and morally flexible) designers would turn to pirating the software. While unbecoming, there were few worthy alternatives to the industry standard. GIMP and other open source image editors offered some of the basic functionality of the prized Adobe property, but overall, they all felt lacking and unpolished. Now with Adobe Cloud based subscriptions, the pirates are limited to other options.
For the first time, a truly free alternative is readily available to the public. Photopea is a nearly 1:1 recreation of the beloved Photoshop interface that works completely within your web browser. The developer of the service has even received praise and support from Adobe, who is interested in the progress being made on the project. From simply cropping an image to complex photo retouching, Photopea offers nearly all of Photoshop's functionality without the hefty licensing fee.
---
Wappalyzer
W
When visiting a website as a developer, it is often tedious to dig through the source code for information. Or, as a business owner, it's difficult to remember the tools and services you need to maintain your website. Wappalyzer simplifies this by displaying important information about your website or any other one you visit. This includes server type, CMS, and code libraries, all with the click of a button in your browser. Wappalyzer offers an easy-to-install extension for all major browsers. If you're curious about any feature or service used, the user can click any technology for further information on what it does and how other websites across the web utilize it.
With its simple installation and one-click use, this tool is a great addition to any browser. Learn more from Wappalyzer here.
---
Save Image As You Want
You may have noticed in the last year that when saving images from the web, you're sometimes stuck with a new unfamiliar file type – WebP. This next-generation image format was built for the web and championed by Google, slowly being incorporated across all of Google Images. This new format offers incredible performance benefits with fast load times and better protection against copyright infringement. One major drawback is that the average user has no idea what it is, how to save it, or how to use on other platforms off their web browser. Many developers were quick to develop workarounds and so far "Save Image As You Want" has been one of the simplest to use. As another easy-to-install Chrome extension, this software will allow you to right click any image (including WebP) and download as a JPG, PNG, or Gif.
Download here to stay prepared as WebP quickly becomes the new web standard.
---
SmallPDF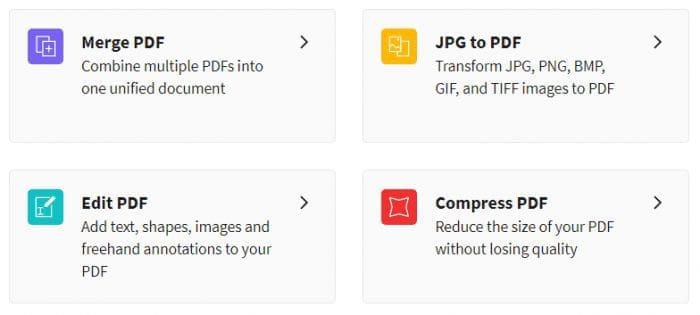 One of the most common and unusually difficult tasks in the day-to-day workplace is manipulating PDFs. The file format is the modern standard, but unfortunately remains one of the more bloated and cumbersome file types there is. Most tasks with PDFs include three basic functions: merging, reordering, and reducing the overall size. Even with all the tools available to a working professional, these everyday chores can be time consuming. However, SmallPDF provides all this functionality, sometimes even faster and more effectively than high-end versions of Adobe Acrobat. The only limiting factor with the free website tool is the daily limit, but you'll find this limit will cover most casual use cases. And, if you are finding yourself regularly hitting your limit, the monthly subscription is fair for the ease of use and multitude of available features. See all the PDF editing tools provided by Small PDF here.
---
Google Fonts
When dealing fonts, especially across multiple platforms and people, users can hit road blocks with licensing, compatibility, and availability. There are hundreds of viable services online offering font files, both free and paid, but these can vary greatly in quality and legality. Even when you find the perfect font with wide support, years down the road the file may be lost or a new file type is needed for evolving platforms. Google has made this uncertainty easier to navigate with its large library of widely supported fonts free for both personal and commercial use – no difficult "type kits" or complex licensing. All fonts can be easily downloaded and installed across nearly all devices and platforms, as well as incorporated into web projects so you know your font can be displayed properly on your website.
Explore the 1000+ font families on Google.
Please note that these free tools, while convenient, cannot replace the power of a well-trained marketing team. Contact the experts at Impact Marketing today at 319-232-4332 or visit our website at impactmt.com.